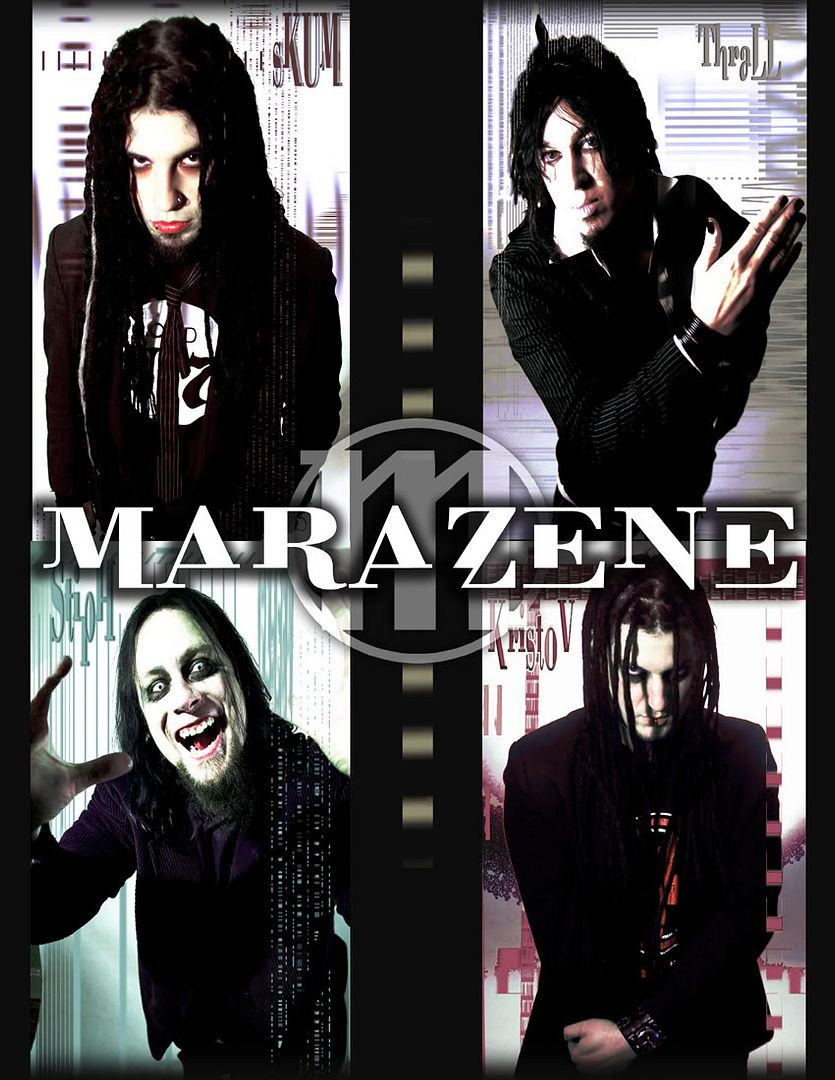 Marazene
is a three piece industrial metal band from the small town of
Chicago, Illinois
. They consist of Nikk Skum on vocals and multiple instruments,
DieTrich Thrall
on multiple instruments, and Kristov on drums. They are a completely 100% Do It Yourself band. Production, mixing, performing, it's all done by the band. Marazene effortlessly blends new tech, with the heaviest of metal. They are like
Ministry
with a splash of
Disturbed
and a sprinkling of
Rob Zombie
. Shake well and you get one of Chicago's hottest acts. Marazene have released one album, which is 2006's self-released
MachiNation
. Of the songs of Marazene's that I've heard, I highly recommend "gIVe (Skumfukker's)", and "AnTiThesis". I recommend you swing by their official
YouTube
channel and have a look at a few of their official videos. Or if you feel like hearin' a few more tunes head right on over to their MySpace page (provided above) and give'em a listen and maybe even a friend request.
I will warn readers, they are
NOT
for the younger crowd. Take their song "gIVe (Skumfukkers)" for example, lyrics include,
"...give me a hole I'll f**k it, give me, give me chance I'll blow it, give me some love I'll choke it, give me a pill I'll pop it, give me a line I'll drop it, give me some smack I'll shoot it, give me a gun I'll do it..."
, and
"Whatever you got I'll put it in me..."
. So as I said, some of their material is not for the younger crowd. However, I still highly recommend that you go and see Marazene if you ever get the chance. I honestly don't think you'll regret it one bit.
For Marazene, I'll have to give me a four stars out of five. It's not everyone's shot of Jack but I find them refreshin' and I recommend to every metal fan.
Enjoy,
Crash Underride
"MachiNation"
"gIVe (Skumfukker's)"
"gIVe (Skumfukker's)" [live]
on
YouTube